RWBY V7 Ch 6 Review: A Night Off
Greetings, FNDM! Sasskage's back with another (incredibly late) RWBY episodic review. This time, I'll be talking about the sixth chapter of the ongoing volume, 'A Night Off'.
More like a night to remember with all that trauma and those feelsy moments, if you ask me.
SPOILERS AHEAD!
Actual Flipping Analysis
The episode opens with a look at the aftermath of the riots that have escalated since Jacques sparked the fires of revolt. The protesters are being rounded up by the Atlesian authorities after the violent acts they've performed. Interestingly, Robyn herself is against the idea of rioting like this.
We get a look at the voting polls and some dear old friends of ours show up — Drunk Scumbag and some of the thirsty moms. We also see the names of two more candidates running for the council seat in the polls, though they're not given much focus and are obviously not relevant to the story. Still a nice detail, though.
Heading to the training room, we get a look at our heroes training. Blake and Yang are training together. Additionally, Weiss uses her Arma Gigas summon creatively to win against Winter, something pretty rare.
Good, she's finally won a 1V1 for once in her life.
Also, Weiss's chuckle is the sweetest thing ever.
We get Nora showing off her own upgrade. Along with that, Jaune's Semblance control is improving. Turns out, he can boost his own Aura when he's running low, something pretty surprising. I wonder whether it has any limitations to it, like the regeneration function not being applicable if his Aura goes down in one hit alone, thus disabling his Semblance. Otherwise it's hella OP.
There's still the question of Oscar's Semblance lingering, which fits with the overall volume. The official Amity Arena Twitter account hinted at Oscar's Semblance being revealed this volume itself when asked whether there would be a unit for him in the game.
Good, this precious boi really needs some onscreen character development for once in his life.
Also, there's Ruby's split function that we saw back in the V4 character short. Maybe her teleportation function?
Ironwood and Clover, Master of Bolo Ties, arrive with a little update for the team. They're giving our heroes a night off to relax and go have fun. This is so that they can come back refreshed for whatever the election brings.
We get a first look at the voting poll results and Jacques is so not having a great time. Robyn is in the lead. She's not really one to trust Ironwood and has some 'questionable' methods, but she's still a preferable option to Jacques. With her on the council seat, things could possibly change for the better in the kingdom.
I have a gripe over this detail, actually. It's been established that there are four candidates running for the council seat, so why do the votes obtained by Jacques and Robyn equate to 100%? What about the other two candidates? They're probably not as popular, but they ought to get at least a tiny bunch of votes for the added realism. Jacques and Robyn shouldn't have the total 100%, though they should definitely occupy a huge percentage.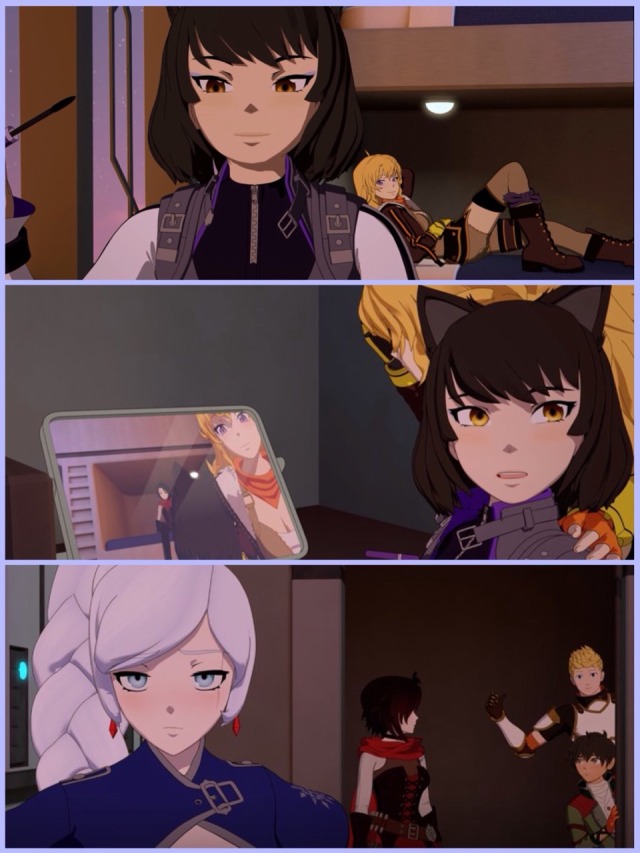 We head to Team RWBY's dorm after this scene. Weiss is confused as to why her dad would go viva la revolution all of a sudden with no real gain. Blake and Yang are busy being in love and are just plain adorable.
Turns out, the bees are going dancing for their night out. I can definitely relate to Blake's phenomenal dancing skills, haha.
However, she wasn't established as a terrible dancer in the Beacon Ball in V2. I think that Blake is good at slow dancing but terrible at faster dancing, like a lot of people.
Weiss's unamused look is something being taken negatively by a lot of Anti-Bee peeps in the FNDM. It's being seen as proof that even the RWBY characters themselves are being fed up of Blake and Yang being a thing, to which I strongly object.
Firstly, Weiss herself was smirking during that Bee moment just three episodes ago.
Secondly, Remnant is an LGBT-friendly planet (Like our world should be …) and non-straight people are pretty much considered a norm there.
Therefore, Weiss has no negativity towards the ship. She's just fed up of being the third wheel to the point that she goes to the movies with Jaune of all people. Well, at least he finally got what he's wanted since V2. Plus, Oscar is joining them as well.
That leaves Ruby to go to the after-election party with Ren and Nora, thus being the third wheel in this situation. Hoo boy.
A lot of people have complained about Blake and Yang spending 'too much time' together. And I've got a lot to say regarding this stupid argument. If you click with a person, you'll want to spend lots of time with said person and that's perfectly normal. That's just what love is. It's not forced or anything like that. Anyone with relationship experience — or even a hopeless romantic — would say the same thing.
Man, the haters must really suck at romance XD.
The scene that we actually get this episode is the Renora plus Ruby outing. Surprisingly, we get the method of Salem's defeat and the question of Jinn's wording addressed. Maybe Silver Eyes do stand a chance. I hope it's more than Ruby just skadooshing Salem into oblivion with her eyes, though, because that would be pretty cheap.
They head over to Robyn's victory party and this new song is killing it.
Also, Nora confirmed Bumblebee. Hooray!
I should address another point that people have brought up, regarding Ren's views on Bumblebee. Let me repeat myself: Remnant is an LGBT-friendly world. There's no possible way Ren could be uncomfortable with the idea of Blake and Yang being a couple. This is just him being out-of-touch with emotional matters and focusing solely on the situations at hand.
And this ties in with the debate that breaks out afterwards. Nora's fed up of Ren cutting her off like that. She wants him to show her that he does indeed care, because she loves him. He's not expressing his feelings and it's hurting her.
With this bickering session going on, Ruby decides to escape and finds Penny. Thus, she's no longer the third wheel in this event.
After that, we get to learn more about Robyn's Huntresses. May Marigold, judging from her appearance and last name, might be our dear Henry Marigold's sister. Is she from an upper-class family? That's quite interesting, seeing that she's fighting for the betterment of Mantle. It's good to see that there's more to the Atlesian elite than the 'rich people are pricks' thingy. May might be an allusion to Maid Marion.
We also get to see Joanna Greenleaf, who's probably based on Little John and Reynold Greenleaf. And Sheep Girl AKA Fiona Thyme is based on Friar Tuck.
We get a better look at Robyn's character. It's clear that she's a morally gray character who's willing to break the law to help those in need, especially because she believes that the law is unequal. Robin Hood was my childhood crush and I've always loved different imaginings of this character.
Yes, I just said that Robyn Hill is my crush.
With the morally gray side of her covered, it's obvious that she does care about Mantle and equality. Her Huntresses definitely respect her and she's got this soft look towards Fiona that proves that she cares about her partners in turn. Her words aren't just political propaganda — she's legitimately someone who cares about the cause she's fighting for.
We also have Ren's issues with aloofness addressed in this episode. He and Nora went through a shared conflict via Kuroyuri that brought them closer to each other. However, Ren isn't one to let his emotions get in the way of the mission and that's bothering Nora. In order to get her point across once and for all, she kisses him.
The cinematography of this scene is absolutely spectacular. I love how the world blurs out as they kiss, as a metaphor of how their feelings for each other are all that matter in the moment.
However, things aren't gonna be too happy forever. Looking at the screens at the back, one can notice Jacques's vote percentage rising as Robyn's falls at an alarmingly high rate. And as it turns out, Watts is using a set of scrolls and rings to rig the election.
Tyrian's there for the real fun to begin. Ruby recognises him, but it's too late as the lights go out and pandemonium takes place.
I'm gonna try and explain Marrow's usefulness in the dark. Dogs actually do have night vision and can see less than cats, but a higher number of targets at once. Additionally, there's their colour blindness. Red and green appear to be yellow to them. Magenta, cyan and purple aren't visible shades of colour to them. Plus, they can't see stuff in very high contrast.
Yeah, doesn't sound like he's much help in this situation. The volume itself also made it clear with Marrow sending Blake into the darker section of the aband Dust mine instead of going there himself.
As for Tyrian being able to fight in the dark, I've got another argument to defend this writing choice. Assassins can actually be trained to fight in the dark. An example of this in fiction is Arya Stark in Season Six of Game of Thrones. She temporarily loses her eyesight and has to adjust accordingly, and that's how she learns to fight without having to see.
Also, Penny isn't glowing that bright. Please. Observe for yourselves, nitpicker squad.
The party massacre scene doesn't shy away from brutality and I absolutely love this aspect of it. It shows that RWBY isn't afraid of embracing its darker side.
Tyrian's Semblance seems to be an Aura Break function — disabling one's Aura to give him an opportunity to kill the target. Definitely efficient for an assassin.
I'd like to point out that Tyrian's Semblance Sets him up against Jaune's Aura Amp, a clear red flag for a conflict between the two. Our assassin has definitely shown an interest in the knight in the past. Additionally, Jaune is associated with yellow and Tyrian with purple. These are actually complementary colours on the spectrum. Neat symbolism there.
Also, Tyrian must suffer for what he's done to Sheep Girl. HE WILL PAY.
Along with that, Watts is mashing this up with footage of Penny fighting the Grimm and uploading it on the Internet. Man, this'll be a hard one to get out of.
I wonder whether the real footage is recorded in Penny's cameras, though… .
When the lights go back on, we get the bloody aftermath of the events that just transpired. And man, what's Tyrian got against the thirsty moms? They didn't deserve that.
My issue with this scene is that Penny's blades weren't covered by blood in any opportunity as that would've made the evidence against her even stronger. So yeah.
As the people turn against her, it's clear that Ironwood has been framed. Along with that, Jacques has won the council seat. And Robyn sure as hell is pissed and coming for payback after Fiona's death. If last week's episode was the spark, these are the real fires of revolution. And Atlas is doomed to fall (Probably literally… .).
The Grimm come to wreak havoc in the city and Penny, with a sad look in her eyes, flies away from her friends. And the episode ends with a Manticore horde coming to Mantle.
Conclusion
This is definitely a stronger episode than the last two, and up there among my favourites. I won't deny that it's got its issues here and there, but some of the hot takes made by the haters really bug me and make me question their intelligence levels, like seriously.
I think the next episode has the setup for the Tales of Ba Sing Se-style episode that's been teased. I mean, Blake and Yang have an opportunity to talk things out. And Weiss, Jaune and Oscar form a separate group. Now to see where this goes.
Score: 9/10
View Full