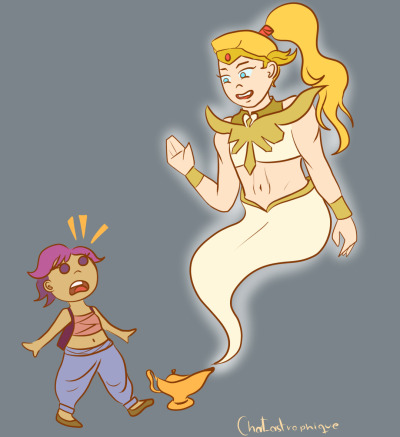 Recently I saw the live-action of Aladdin and I like it also because Aladdin is one of my Disney favorite movies. So idk why I decided to create this She Ra AU, and I have two ideas on mind:
The first is that Glimmer is an ophan thief after her father disappeared and her mother died. So she fell in love with prince Bow (omg Bow as a Royal?) And ok, she finds the lamp and all the story that we already know. So the genie will be Adora as She Ra and her only desire is to be free of so much power and live a normal life. In the process, she fell in love with Catra, and more than ever she wants to be free and be with her ❤.
The second idea is that Catra is the orphan thief that fells in love with princess Adora, but for being with her she needs to be a powerful woman to deserve the love of the princess. So she finds the lamp and boom! Fabulous genie Glimmer appears, also she wants to be free and know the world.
So all the drawings you see are from the first idea but if you want to see drawings of the second idea let me know ;3 also let me know which of both ideas you like the most.
View Full