It's time for some more pride art!
I've been wanting to do some cute pixel camera pride art and here the first part finally is! So happy with the result and I hope you guys like it as well.

And part 2 of these which will be mainly based around sexual orientations will be released very soon!
All of these are available as print, shirts and so much more over at Redbubble and Society6! 
bonus of the actual drawing sizes: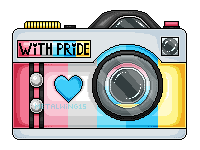 View Full