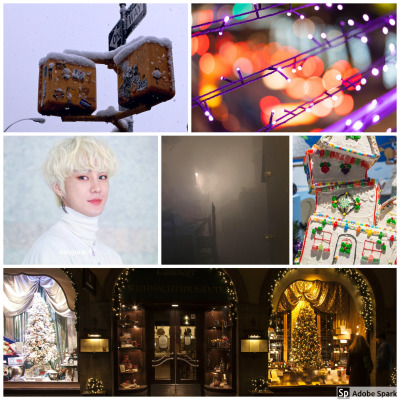 Supernatural AU
Pairing: demon! Ayno (Noh YoonHo) VAV x Female Reader
Genre: F L U F F
Warnings: Stuff on TV looks easier. Don't disable your smoke detector. Don't leave your demon unattended. Indian food can be very spicy. 
Word Count: 1342
AN: Welcome to Day 2 of the 12 Days of Demon Ayno! It's another FLUFF day! (stay tuned- we'll be getting smutty tomorrow!) This is another short installment. I love feedback- so if there's something you like, or something you want to see- tell me!! If you're new to demon! Ayno, he showed up here first in Summoned, and then at Thanksgiving! 

Day 1 | Day 2
On the 2nd Day of Christmas: Ayno Discovers They Make it Look Easy on TV
As you stepped off the elevator you realized that the horrible smell that had permeated the entire apartment building seemed to be coming from your apartment. You hurried to open the door and found it freezing cold inside with a lingering haze of smoke.
"Ayno?! Ayno?!" You felt a small surge of relief when you saw the demon's head stick out of the kitchen looking rather dismayed.
"What happened??" You asked looking around at the counters of the kitchen which were littered with cremated slabs of…something.
"I was trying to make a gingerbread house. Things did not go as planned."
"A gingerbread house?" you asked.
"Yes- the Cooking Channel had a show on today called the Great American Gingerbread Challenge: people constructed very elaborate houses made out of gingerbread. Then they decorated them. They were beautiful and very detailed- I thought it looked like fun. So, I tried to make one, but I never got to the decoration because I burned the house." He explained sadly.

"'The' house? It looks like you burned an entire city block. And it stinks."

He hung his head. "I am sorry. I did not think it would be so difficult. Also, we are out of flour and cinnamon now."

"What is that?", you asked pointing to a pile of broken plastic shards and wires on the floor.
"I do not know, but it began making a shrieking sound that hurt my ears. It would not stop so I was forced to destroy it."
You inspected it closer. "Uh, that would be the smoke detector Ayno. It's supposed to make that sound: if there's smoke in the apartment there might be a fire it would shriek to tell us, and we could escape instead of burning to death."
"Oh. Then we are out of smoke detectors too."
You had to laugh. Poor Ayno looked so defeated.
"Come on", you told him "let's throw all this away and then we can go out to dinner."
View Full